Lebby Dry Roasted Chickpeas
Regular price
Sale price
$54.99 USD
Unit price
per
Sale
Sold out
What if your (guilt-free) snack obsession was not only delicious but healthier? Lebby dry-roasted chickpeas are packed with protein, fiber, and – most of all – flavor. Dry roasted – that means no oil, no salt, no additives – no exceptions. It's a recipe that's been around for ages, but we bet you've never tasted anything like it.
Ingredients:
Dry Roasted Chickpeas, Cocoa Butter, Cocoa Mass, Cocoa Powder, Beet Sugar, Soy Lecithin, Vanilla Extract, Acacia Tree Gum, Vegan Glaze
View full details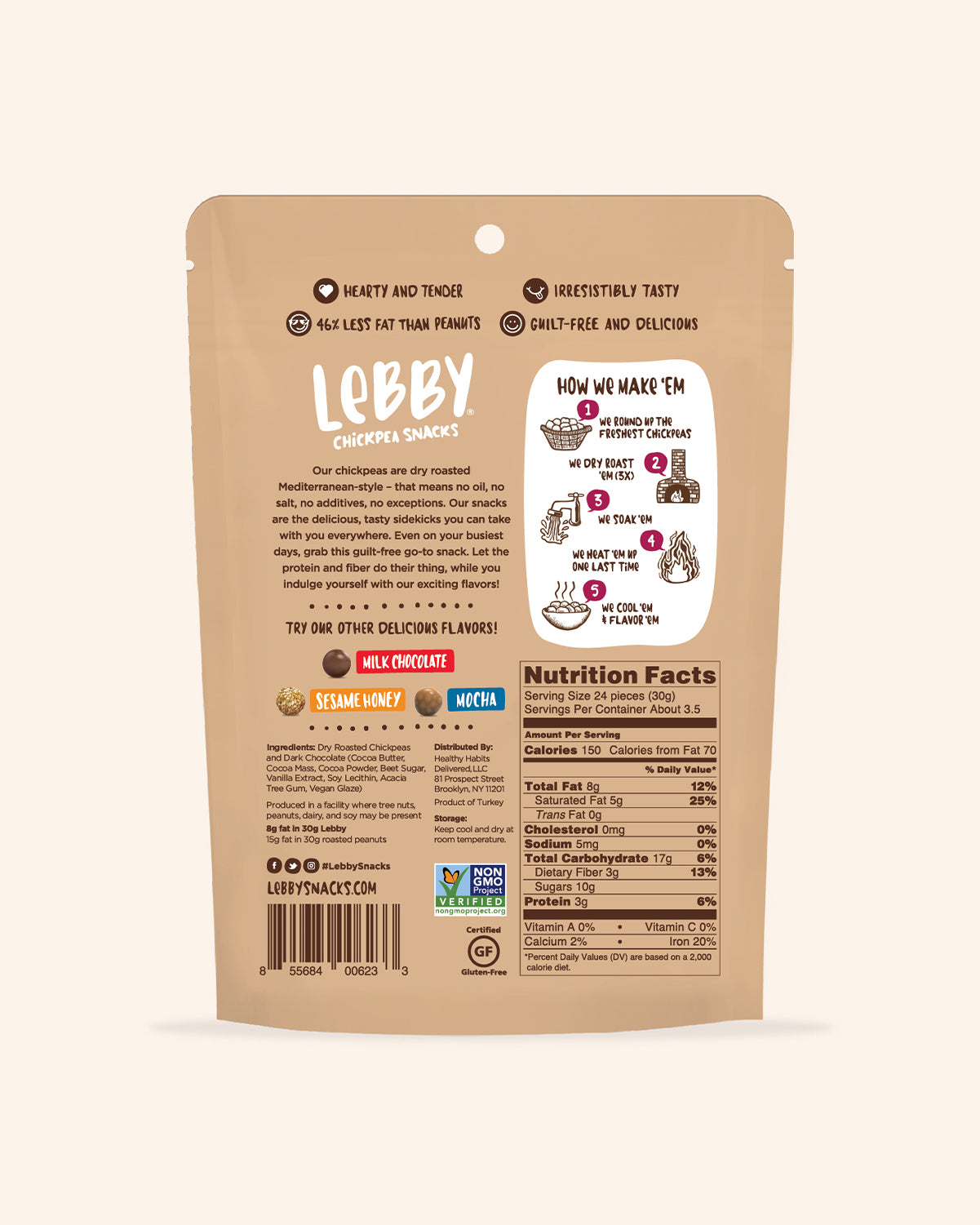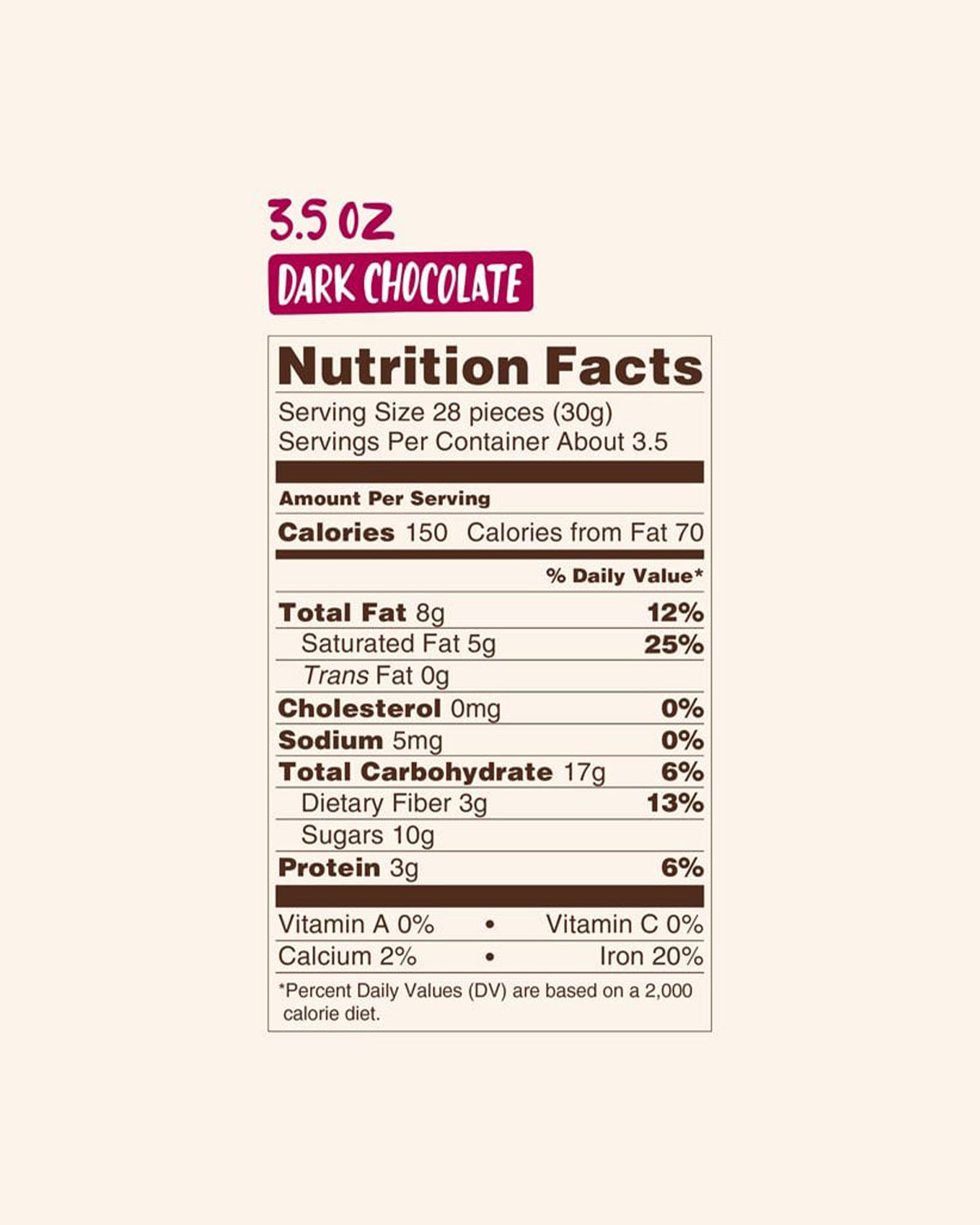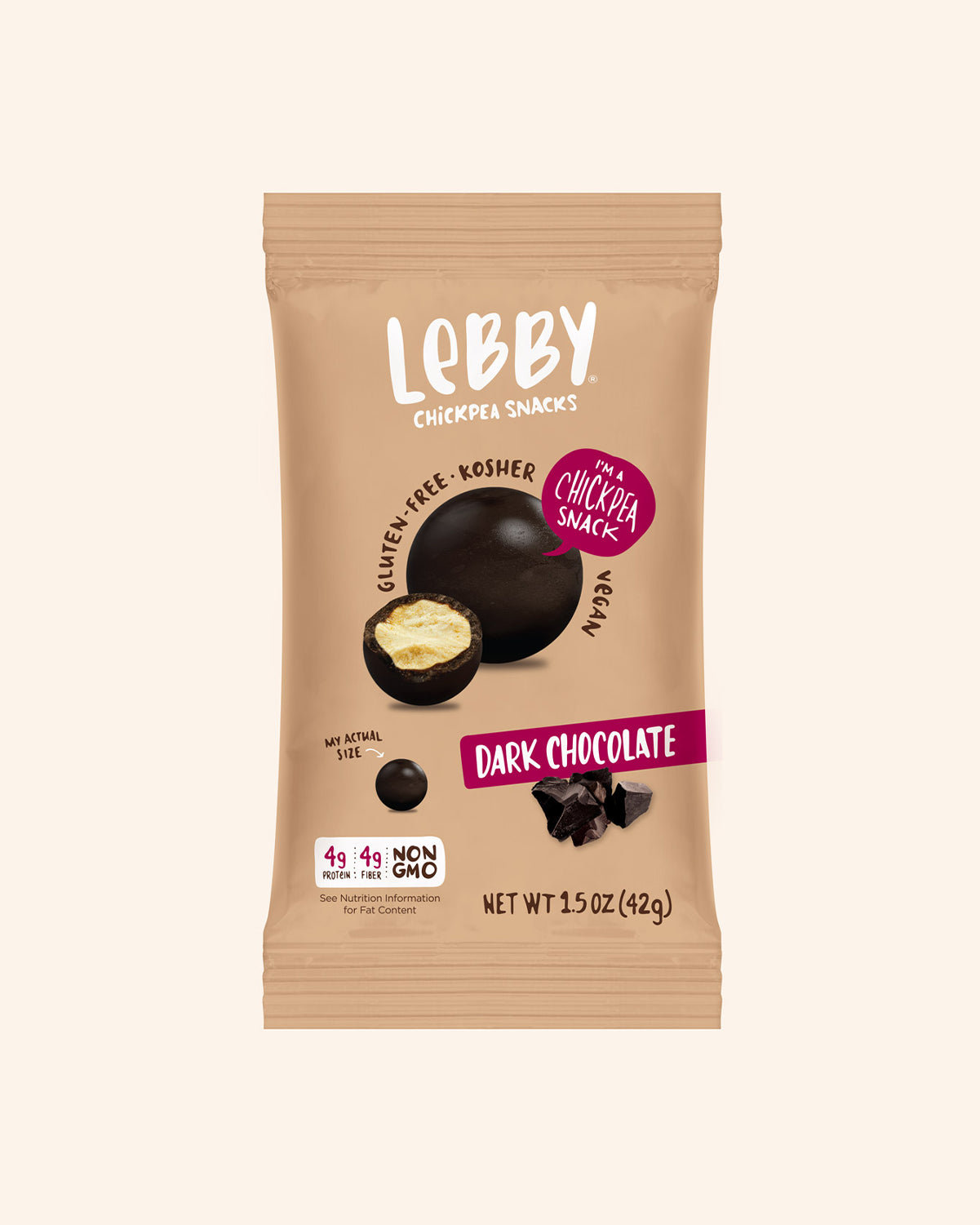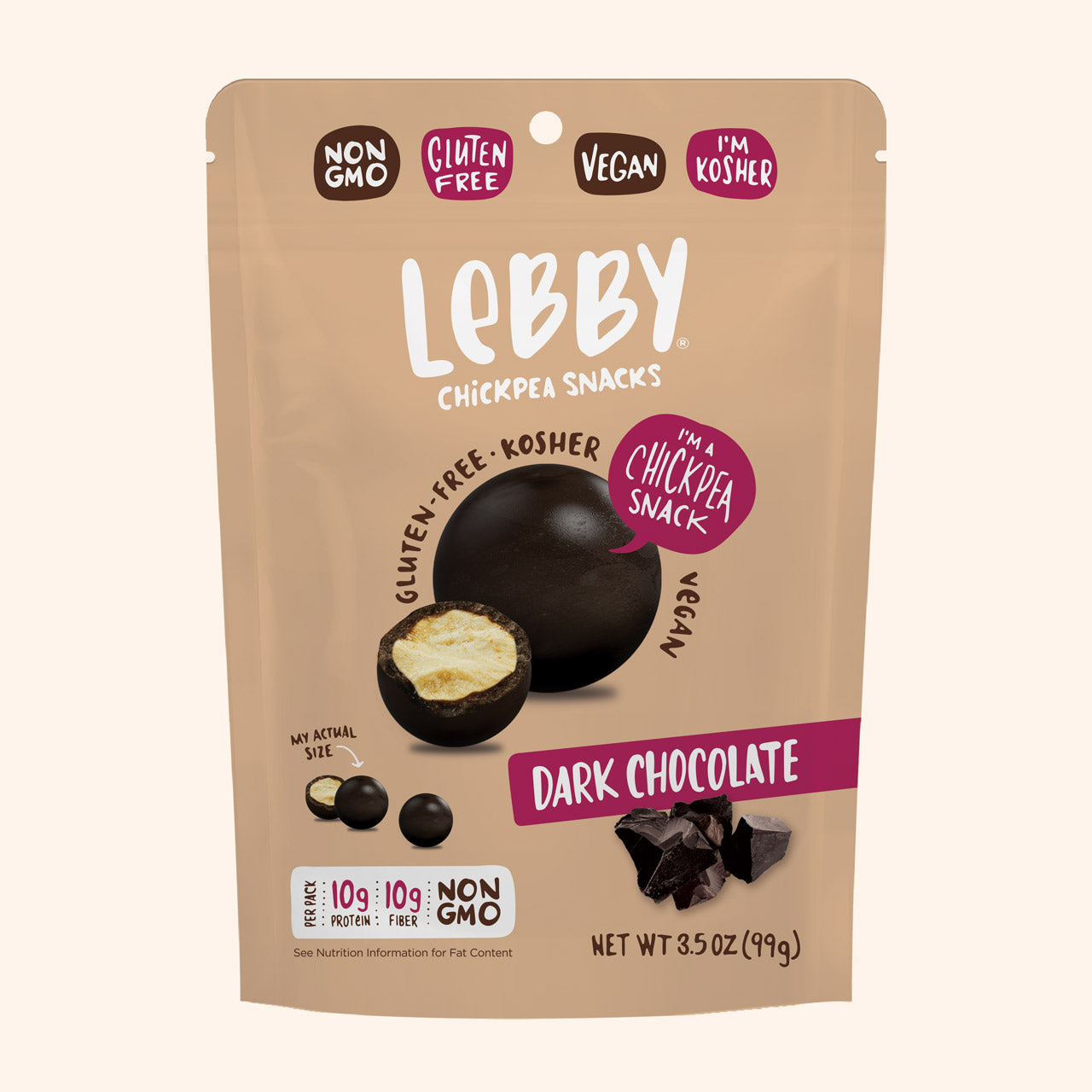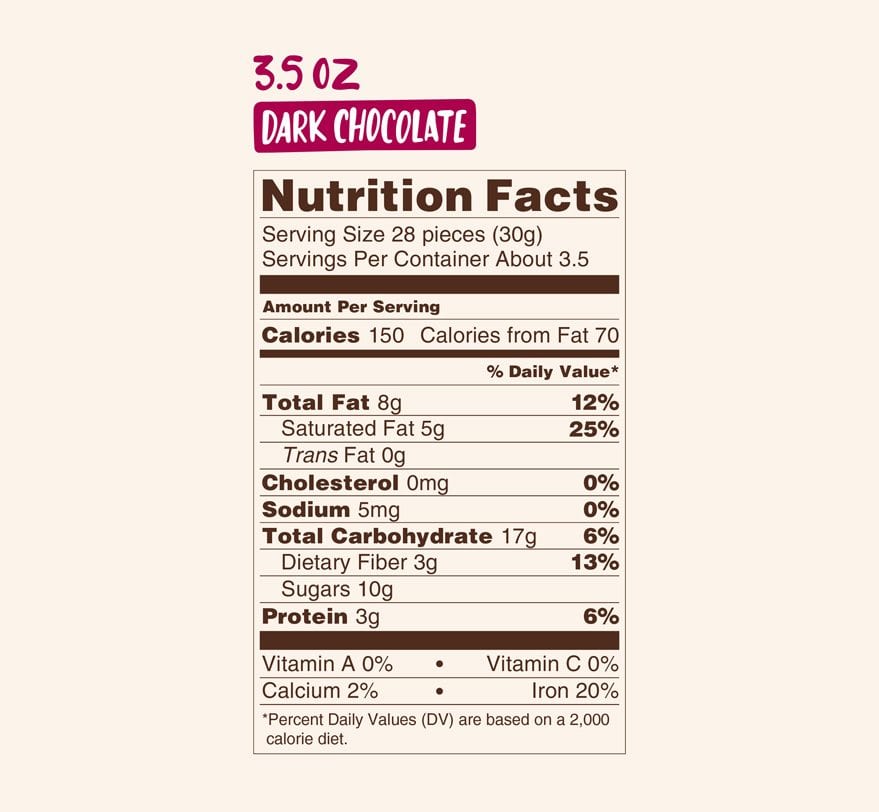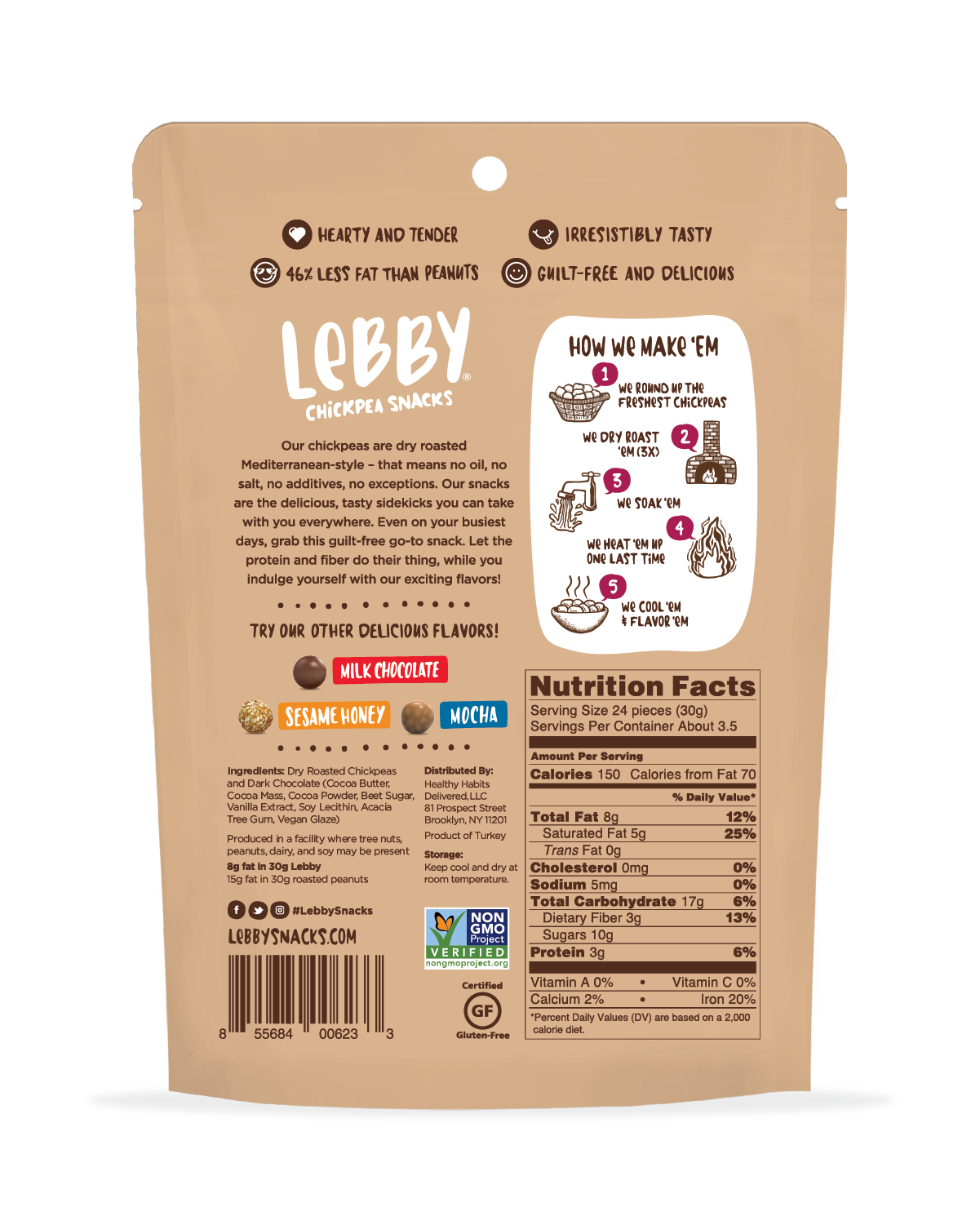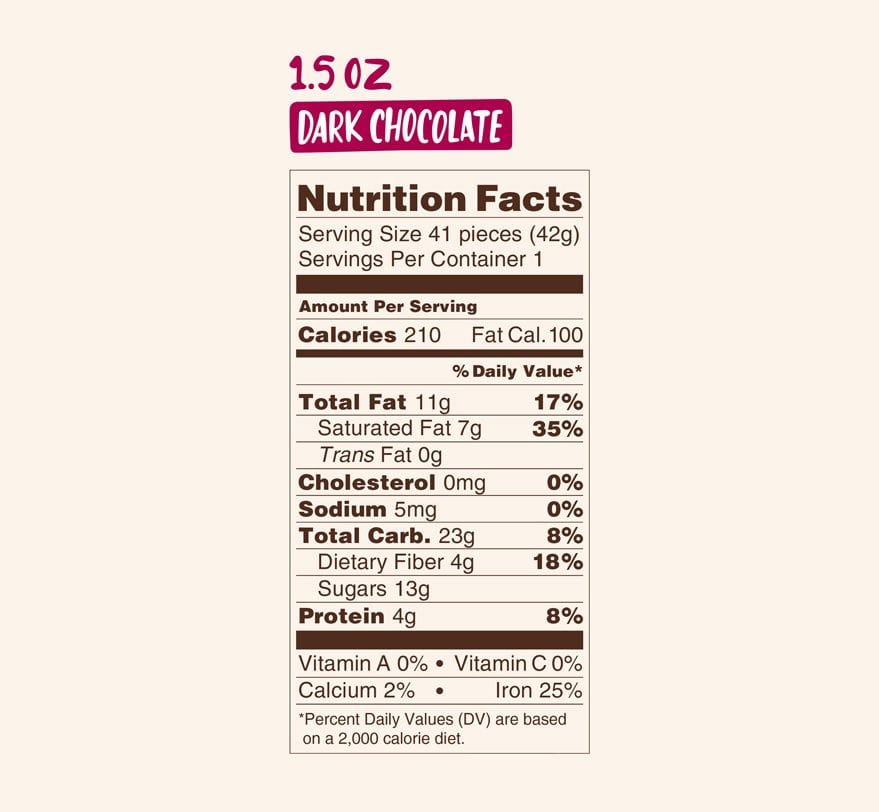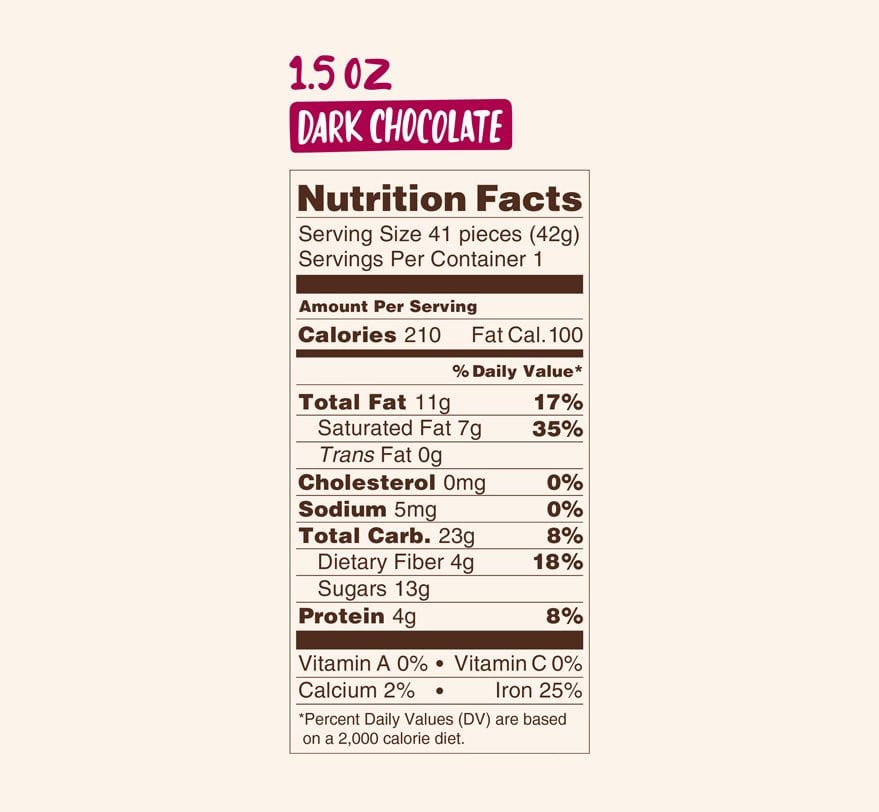 I'm obsessed!
I am allergic to everything - long story, but I can't eat any added sugar, dairy, gluten, or most preservatives. But, I also can't live without chocolate! I'm always on the lookout for something I can actually eat that involves chocolate. If it s healthy, that is even better (I'm generally a bit of a health nut). I saw these and knew I had to try them. I had never tried beet sugar before, but I love chocolate and chickpeas, and I could actually eat this, so I gave it a try. I am now officially obsessed. They are SO good. The dark chocolate are vegan-friendly. The milk chocolate do have dairy, so be aware of that. And, if you need to keep on the low side of the glycemic index, these will work for you! These are a new must have in the cupboard for me!
Awesome treat!
I tried these at the recommendation of my nutritionist and she was right...perfect treat when you want Chocolate but dont want to derail your diet!
Yum!
I purchased these snacks last year at a wawa across from my college. They got me through the class as a sweet treat I didn't feel guilty about! After I graduated and the pandemic hit I stopped going to that wawa and one day was craving these snacks! Price wise I think its the same, about $2 or less for one bag which is perfect for a sweet treat while living a healthy lifestyle. Now I am stocked up for when the chocolate craving hits! If your on the fence about brands, I have only tried this specific brand, and I love that they are vegan as well so I don't have to worry about any dairy sneaking in there. Truly a perfect sweet treat!
Tasty little snack.
I have allergies to grains, etc. and this is a nice alternative.
Best unknown snack found!
I picked up a small pack from a local Walmart, fell in love with them and haven't found them since... I've went back to that Walmart and a few local stores to see if they could get more in but still haven't heard anything after weeks of trying. So I reverted back to Amazon and low and behold here they are!!!! I loved these as an alternative snack that's tasteful and fulfilling! I hope these never go away, and that I hope to see them in local stores! I do tent to like to open the pack and eat them the next day adds a little crunch to the bite!